Does your charity design and sell charitable wedding favours? If not, you could be missing out on a lovely opportunity to drive donations and support for your cause. In recent years, we've seen many couples forego predictable and disposable wedding favours for their guests with more meaningful and unique charitable gifts. 
Brides magazine reports a growing trend toward charitable wedding favours that speaks to our desire to make a difference and give back. Your charity can easily tap into this trend and help people "share the spirit of kindness" with all of their guests, be it ten people or 1,000. In this post, we'll show you six creative ways that leading charities in the UK are saying "I do" to special wedding favours. These are all fun ideas that your charity can adopt in time for upcoming winter weddings, summertime celebrations and everything in between.
MIND: Seeds of Love
First up is the mental health charity, MIND. The charity offers beautiful pin badges for sale on its online shop, including versions in both silver-coloured nickel plate to match a silver-themed wedding and a gold-coloured gilt plated pin badge for a gold theme or colour scheme. Offering multiple colour options for your wedding favours is a smart way to appeal to even more couples, as they can pick items that match their carefully curated look or feel, be it the middle of winter or a fresh summer wedding. 
We also recommend that you add some fun to your favours! MIND is quite creative with its wedding guest favours, including a unique sunflower seed packet that is perfect for spring and summer weddings. The charity even offers a special "Best Man's Speech Sweepstakes" template and game in which guests can collect donations and guess the length of the speech.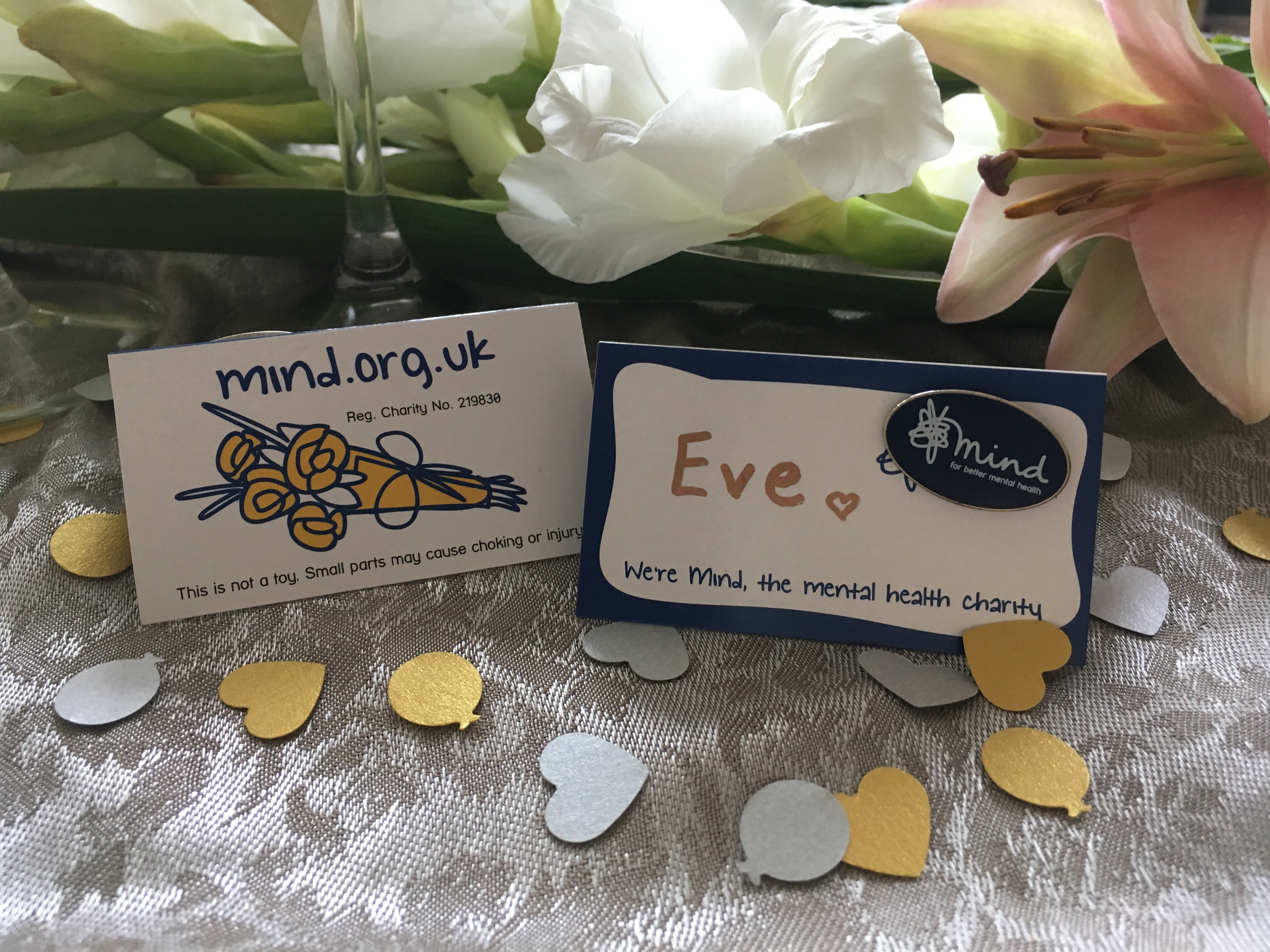 Get Lucky in Love with Bluebell Wood 
Here's another unique take on a wedding favour, this one from children's hospice Bluebell Wood. The charity sells "Lucky in Love" cards to help couples thank their guests in a meaningful way whilst also giving them the chance to win a cash prize. The favours come in three different designs (Love Heart, Falling Confetti or Fluttering Butterflies) and each lovely card includes a unique lottery number for a weekly lottery contest. 
Your couple can place these cards at dinner place settings, so every guest receives not only a beautiful card and message about the children and families the charity serves, but also a chance to win a £1,000 cash prize! Each Lucky in Love card sells for £1 per person, making this an affordable, fun and meaningful choice for your supporters' big day. Why not put together your own version of a "Lucky in Love" wedding favour for your own charity?
Dogs Trust: Celebrate VIDs
Does your charity support pets and wildlife? Consider designing special wedding favours that will speak to your animal-friendly supporters. The Dogs Trust charity, for example, provides a unique way for couples to incorporate their pet pooch into the festivities with its dog wedding bandanas. After all, it's not uncommon these days for people to plan a role for their pets on the big day, much the way one might ask a niece or nephew to be a part of it. In observation of this, Dogs Trust offers special bandanas for Rover's big day as a ring bearer, best dog or dog of honour. 
We love this example, as the bandanas are perfectly targeted toward the charity's audience and clearly reflect the mission of the organisation. You could also promote any animal-related favours as a unique addition to scheduled pre-wedding photos – offering a safer, slightly more predictable way to involve animals then by having them be a part of the actual wedding festivities.
Beat Heartbreak Forever with the British Heart Foundation   
The British Heart Foundation offers a wide-range of wedding favours, but their heart-shaped glitter badges are among our favourites. These come in a wide assortment and provide a great way for couples to say thank you to family and friends. The pin badges even come with beautiful backing card that couples can leave as a surprise at every guest's seat. 
RSPB: Giving Nature a Home at the Wedding Table 
As another example, the Royal Society for the Protection of Birds (RSPB) has turned its covetable, collectable bird and nature badges into the perfect wedding favour. Couples can choose preselected packs of UK-specific garden birds, wildlife or flowers and each pack includes complimentary place card settings. To get an idea of the different designs currently available, check out these RSPB packs on Ebay. 
As with pin badges and other wearable wedding favours, another benefit to your charity is that wedding guests will continue to use or wear your item following the event, which will help extend the visibility of your charity long after the wedding vows are said. It's also a great way to expand your network of support. You might even connect with entirely new people who hadn't had a previous relationship with your charity prior to receiving the special wedding favour. If possible, plan to include some basic information about your charity on your wedding favour packaging, including more information about your cause and a website link or social media handle. 
Marie Curie: Keep Kids Entertained and Parents Happy 
Does your charity serve kids and families? Consider wedding gift favours that are geared toward keeping kids entertained at a wedding (an important, but not-so-easy thing to do). The Marie Curie charity, for example, offers a children's activity pack that's perfect for wedding guests with little ones. Each pack is filled with activities that help the kids interact with the wedding so they don't feel left out. 
One idea from Marie Curie is to place all of these kids' activities on a special table so they have their own area for colouring and drawing (and staying busy). Each Marie Curie activity pack comes with a sign, place mats and packs of crayons.
We hope this post helps you come up with your own creative ideas for charitable wedding favours to help drive donations and support for your cause. For even more ideas, check out this list of feel-good charity favours, from bespoke bubble blowers to life-saving supplies. Offering a range of items at various price points and even colour schemes will help you appeal to all sorts of wedding or holiday celebrations, all year long. 
What other ideas have you seen from other charities or as a wedding guest yourself? We'd love to hear more and brainstorm a few creative and feel-good wedding favours so you can make the most of these special occasions, all year long.