Galas and benefit dinners are a great way to boost the profile of your charity. They're also a very enjoyable and special way to spend time with your top supporters and beneficiaries. Perhaps most importantly, galas can also be one of the most effective fundraising tactics for your charity. 
A Forbes article gathered insights from several gala planners and said that one organisation, REDF, raised millions of pounds from these events over an eight-year span. Another planner organised "low-budget" galas that achieved a 1100% return on investment. Another recent gala for Ubuntu Pathways raised almost £1 million. Galas take work to plan but, when done right, they can bring in significant attention and money for your charity. Here, we share our top tips for planning and hosting a successful and profitable charity gala event.
1. Know your audience.
Our first tip is to start early. One expert suggests that you allow as long as 18 months for a first-time or large event. Once you have a general date in mind, one of your next tasks is to think through your guest list. How many attendees do you need to meet your goals? And who do want at your tables? Remember, your gala is not just about filling the room, but filling it with the right people.
Look first at your established, recurring or big donors as they've already demonstrated a commitment to and relationship with you and your charity. Beyond this, your established supporters are also key to introducing and connecting you with new donors to your cause. Whomever you decide to invite, consider their unique interests and motivations and build a strong case for why they should attend your particular event. 
2. Create a special, memorable theme.
Our next tip is to develop a memorable theme or focus for your gala. This theme should call attention to your critical mission whilst highlighting the good work your charity does. Everything, from food and activities to décor and merchandise, should support this theme. For example, you could connect your gala to a particular season or holiday, like the new year or Earth Day. Or you could take a more dramatic approach and feature beneficiaries and others impacted by your charity at your event. Another idea is to imbue novelty or humour into a celebratory gala with a carnival, festival or sports theme.  (But, remember not to stray too far from your mission and purpose, after all, you're planning a charity gala, not just a party.)
UNICEF hosted a Soccer Aid gala that featured performances from famous players and an interactive football-themed reception. A unique focus like this might help expand the number of attendees and, with it, the amount of money you can raise. (The Soccer Aid event raised £425,000 for UNICEF's vital work.)
3. Create a draw.
From fantastic celebrity guests to a stunning venue, one way to generate profit and attendance at your gala is to build something that is sure to draw attention. The best way to explain this, we think, is through some great examples. Wouldn't you be drawn to attend one of these two events?!
Caudwell Children's Butterfly Ball features an impressive list of celebrity attendees, like Chaka Khan and Leona Lewis. The charity doesn't shy away from this either, and nor should yours. Caudwell Charity positions the event as, "the UK's most exclusive charity event attracting worldwide media attention" and "an evening of the finest cuisine, world class entertainment and money-can't-buy auction prizes".
Or would you be more drawn to the Macmillan Ball, which hosts the event at the Victoria and Albert Museum, offering exclusive access to the stunning museum, after hours?! The event raised £290,000.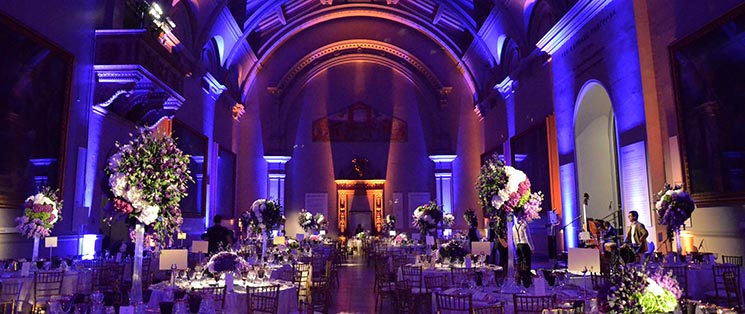 4. Leverage your partnerships.
Strong partnerships will enhance your gala and increase the amount of money you can raise. As more fees are covered by sponsors, your donors will face fewer costs, which, in turn, means that more money will go directly to your cause. 
Look for partnership opportunities among past sponsors, your charity board or leadership team or with local businesses or corporate partners. You can even have more functional (and less financial) sponsorships, where partners can fund or provide specific activities such as the bar service, food or parking. Local retail businesses might also be interested in donating prizes for a raffle or charity auction. 
5. Show your appreciation.
Another tip is to be thankful and show appreciation for everyone involved. Not only are people taking the time to attend your event, but they're likely spending quite a bit on a ticket or table. One way to show appreciation for your donors is by giving classy event gift bags filled with one-of-a-kind merchandise that connects to the theme of your gala. 
Popular items for a memorable gala gift bag include bespoke cufflinks or premium quality enameled badges. Consider creating a series of branded goodies, and package them all in a custom, luxury gift bag or presentation box (like below) featuring the name and date of your charity gala.
6. Follow up (for the next one). 
Last but not least, be sure to follow up with guests after the gala to thank them for their support and credit them for the tremendous success of the event. Consider sending a handwritten letter of thanks from your founder or president, and include a small token of appreciation, such as a photo magnet that captures a memorable moment from the night. And keep this conversation going! Continue to update your donors on the next charity gala – see tip #1 above, and repeat!
We hope this helps you plan a memorable and successful charity gala for your charity. When done right, an elegant event can boost the profile of your charity and raise a lot of money for your cause. We'd love to hear more about your vision for an event and brainstorm a few strategies to make it a memorable, record-breaking evening. Please drop us a line!