4 February marks World Cancer Day, an international day to raise awareness and encourage cancer prevention, detection and treatment. Every year, 9.6 million people die from cancer; by 2030, this devastating statistic is expected to rise to 13 million people. The idea behind World Cancer Day is that it's together, as charities and individuals, that we can really make a difference. 
To get a sense of the magnitude of the campaign, just take a quick glance at this map of related activities around the world. World Cancer Day is also a prime opportunity for charities to expand their reach and tell their story around a shared issue. Here, we look at some of the top World Cancer Day campaigns from leading UK organisations and share a few lessons for your own charitable campaigns this year.
1. CLIC Sargent's Band Against Cancer
For several years, CLIC Sargent has teamed up with supermarket giant Morrisons on a highly successful Band Against Cancer campaign. CLIC Sargent, which supports children and young people with cancer, partners with Morrisons around a collection of exclusive – and collectable – Band Against Cancer wristbands. These brightly-coloured woven bracelets are available for purchase in Morrisons across the country, to coincide with World Cancer Day. 
The dynamic duo also recently paired up on Every Pack Gives Back, a campaign in which the proceeds of selected products goes back to CLIC Sargent. Products include some all-time favourite treats and brands, including  Cadbury's Chocolate Fingers, Kellogg's cereals and Yorkshire Tea. The CLIC Sargent and Morrison's partnership has been so successful, it's actually been extended for another year, until 2021, with an impressive fundraising target of £13 million (up from a prior goal of £10 million)!
World Cancer Day Lesson: Maximise your corporate partnerships! Working with local or national retailers is a tremendously effective way to get your campaign in front of people at those key moments when they're doing the weekly shopping or waiting in a check-out line. And don't just limit yourself to grocers or markets; think broadly and creatively about corporate partners that share your mission and serve your audience. This could be a hotel, gym, radio station or local newspaper, medical office, a small start-up business or even another related charity.
Another lesson? Keep it fresh and cool! If you regularly campaign around World Cancer Day, what can you introduce to expand and invigorate your supporters? CLIC Sargent, for example, collaborated with street artist Bambi to launch an exclusive campaign t-shirt this year. What artists or musicians could you collaborate with on clothing or merchandise? Or what about featuring the powerful story of one your beneficiaries who is battling or beating cancer?
2. Cancer Research UK's Unity Band
Another example is Cancer Research UK, which releases a special branded Unity Band® as a way for people to show their support in a simple, yet impactful way. Supporters can purchase the vibrant bands for £2 to support critical cancer research and treatment in the UK. The bands are available in a wide variety of places – including Cancer Research UK shops, highstreet partner shops, and street collectors – as well as online. (There's even a handy map to find the closest Unity Band seller.)
We also love the charity's A to Z guide of fundraising ideas for World Cancer Day. There's some really clever suggestions, like an eating competition, head shave or knitting auction! (In fact, we suggest checking out the guide for a slew of creative ideas for any campaign, any time of the year.)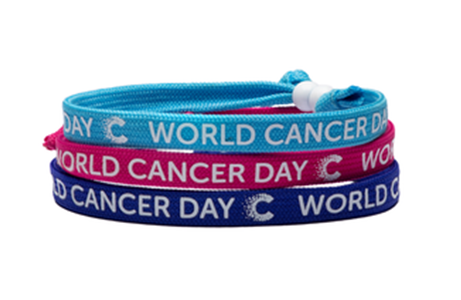 World Cancer Day Lesson: Make it easy. The more people you can reach, the more money your charity can raise to fund critical cancer research and treatments. To do the greatest good, make it as easy as possible for people to participate. Leverage existing hashtags (like World Cancer Day's #IAmAndWill), sell charitable merchandise in as many places as possible and provide helpful tips and tools for supporters. Bracelets, like the Unity Band, are a visual reminder of the fight, and the small donations from the sale of each band really do add up.
3. Children with Cancer UK
Scrolling through the Children with Cancer UK campaign website, you'll immediately notice a collection of compelling videos. These are the stories of real people affected by cancer. One features the full story of a survivor, father, researcher, and fundraiser. Another "Little Translators" video shows Phoebe, a childhood cancer survivor, and her friend, Alice, explaining some of her doctor's techniques and research. You can also easily watch video stories from previous World Cancer Day campaigns. The collection of short, powerful videos reminds us all of the toll that cancer takes, and the role we can all play to raise awareness and work toward a cure. 
Children with Cancer UK also gets active on World Cancer Day. It hosts an annual 12 for 12 charity run, honouring the 12 children and young people that are diagnosed with cancer every day in the UK. People can participate anywhere; in a favourite park, at their local gym or at a special hosted run at Regent's Park. Those who register for 12 for 12 get a pair of limited-edition gold branded shoelaces and a free ticket to the National Running Show. If you're planning your own charitable run or challenge, consider similar merchandise like medals for finishers, t-shirts for volunteers, or special collector badges and keyrings that supporters can purchase for the cause.
World Cancer Day Lesson: Share Compelling Stories. People are moved by other people. For your next campaign, use photos, videos and social media to put a face to your cause. Not only will it spur people to action, but it's a special opportunity to honour those who fight so hard to win this battle. 
How is your charity recognising World Cancer Day? Are you planning a special campaign? We hope this post helps you get involved this year or in the future. After all, no single charity is going to beat this on its own; it's only when we all work together that we can battle cancer and improve the lives of those affected by it. There's still time to do your part this year! Head on over to the World Cancer Day campaign website for free campaign materials, including toolkits, posters, infographics and banners. Use the #IAmAndWill hashtag this week, and be one of the hundreds of charities around the world taking part in this positive, global movement.