Every March, Marie Curie celebrates the Great Daffodil Appeal, the charity's largest annual fundraising campaign, which calls on people across the UK to donate and wear a special daffodil. To date, the campaign has over £5 million, and counting! Money raised provides much-needed care to people with terminal illnesses as well as support for their families. (In fact, last year, Marie Curie raised £137 million toward its crucial caring services.) 
Not only is the Great Daffodil Appeal a highly effective platform for fundraising, it's also one of the UK's most recognisable campaigns. How did it garner such attention and success? Here, we highlight four components that help this campaign stand out and offer some lessons for your own charitable campaign. 
Colour Appeal
One strong component of the Great Daffodil Appeal is a striking (and now iconic) visual element: the bright, happy, yellow daffodil! On its own, the image and merchandise draws attention. Coupled with other marketing efforts, it also contributes to a consistent visual story behind the campaign. From the bright yellow daffodil pins worn by supporters to the bright yellow vests and clothing that staff and volunteers wear while out collecting donations, colour is a key reason this is such a memorable and instantly recognisable campaign. 
For your own charity, consider how to leverage your existing brand or colour into your next campaign. Or perhaps you identify an entirely new or complementary colour palette for your campaign. A good place to start is, actually, with the psychology behind colour. Colour psychology is an area of research that focuses on how different colours drive decision-making and behaviours. This post from HubSpot has some helpful graphics. Yellow, for example, represents happiness and evokes optimism, intellect and warmth. What colour might appeal to your supporters and beneficiaries?
Powerful Partners
Another strength of the Great Daffodil Appeal is its incredible partners, which include powerhouses like Morrisons, SuperDrug and Spar. At Morrisons stores, for example, volunteers will greet shoppers as they collect donations and hand out the special daffodil pins. In teaming up with partners, Marie Curie can extend its overall impact and reach more people. As a result, the charity is able to collect more donations and make a stronger connection to local communities. 
What local or national businesses could you partner with? One strategy is to consider companies that have a relevant audience and reach; but you can also forge strong relationships with entirely new partners, from any industry or sector. Partnerships are particularly valuable, as you can continue to deepen the relationship over time for long-term and sustainable support. Morrisons, for example, has partnered with Marie Curie on the Great Daffodil Appeal for three years in a row. In the first year, it raised £550,000. Just one year later, it raised a whopping £1 million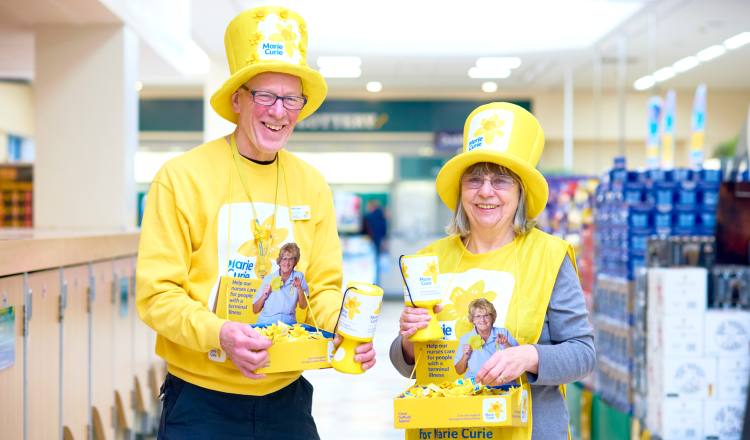 Share Powerful Stories
Colour and partners are key to the campaign, but perhaps it's the stories of the Great Daffodil Appeal that really move people. Every daffodil has a story behind it, and Marie Curie does an amazing job of highlighting the real people who benefit from the campaign. Not only is it a compelling component of the campaign, it also provides an important stage on which to hear directly from the people and their families who are suffering from terminal illness.
Here's an example from the Great Daffodil Appeal, from Kate Harding. She shares a powerful story about her dad, Lambert, who became ill and would've passed away in hospital, rather than at home with his family, without the support he received from the charity, Kate writes. 
Memorable Merchandise
Lastly, we get to the daffodil itself. We've mentioned the iconic daffodil pin a few times, and for good reason. It's become a clear and influential representation of the charity and the Great Daffodil Appeal campaign. The pin, and other related merchandise, helps spread the message of Marie Curie in a simple yet effective way. 
In addition to the pin, the charity offers a wide range of merchandise. The benefit of this is two-fold: First, it offers something for everyone, at various price points, from other pins and badges to daffodil shopping bags (below) or necklaces. Second, it helps ensure that the charity stays top of mind long after the Great Daffodil Appeal ends. In fact, some people even opt to incorporate the daffodil at their wedding! After all, the goal is to raise as much money as possible every day to support people with terminal disease. 
Chances are, you've experienced these daffodils during the normal course of your day. Perhaps you've seen volunteers handing out daffodil pins at the market, or glimpsed commuters sporting pins of their own. This visibility is powerful and it's something every charitable campaign should strive for. 
What other tactics are you considering for your next campaign? We'd love to hear more and talk about a few ways that we can help you raise as much money as possible for your own critical cause. Please get in touch with us today.